Before you start editing or discussing, please read our site rules.
36,857 edits | 113 articles | 23 active users
☀ This is
our petition
— please sign it!
Thank you
so
much for your support!
☀ Let our voices be heard! Ask anywhere and everywhere for Daisy to appear in more Mario and Super Mario games (i.e. Luigi's Mansion 3, future Super Mario games, Super Princess Peach or maybe even Daisy's own game).
☀ Daisy (Atomic_D) and Jourdon are creating a city on Minecraft Wii U and PC named Daisyville (North by Jourdon and South by Atomic_D) to represent the We Are Daisy group. Every member can suggest ideas of buildings in order to make this city the greatest possible. Follow the construction in the Daisyville section of the Minecraft Wii U page!
☀ Get more Princess Daisy merchandise in production!
☀ Convince the developers at Exploding Rabbit to add Daisy to their fan-game, Super Mario Crossover 4.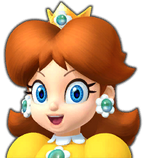 ☀ Send an e-mail to Nintendo* expressing your hopes for more Daisy content via merchandise, games, etc. Note: Some of us collectively sent an e-mail on the same day of Monday, December 28th. There was another grouped email sending on the 7th and 8th of May, 2016, asking for a Daisy amiibo and Daisy in more games.
* The e-mails may have given support for Daisy's Super Mario Maker costume, as it was added about two weeks after the first grouped e-mail sending.
☀ Send a webform message to Nintendo asking for a Daisy amiibo! We Are Daisy community collectively sent out requests on March 19th, 2016 and will continue to plan for additional group-sending dates, with both webforms and emails to ask for Daisy to appear in more main games!
☀ A group of members sent an e-mail to consumers@jakks.com on the same day, asking them to consider a Daisy figures in their next Nintendo World Series. A generic reply was received, more or less telling people to stay tuned for their future lines.
☀ There was a Poll Maker for Super Smash Flash 2, and Daisy fans voted for her, which led her to win the poll. However, the developers stated that the roster had already been decided, and that they won't take any fan feedback. A member of the SSF2 community later revealed to Daisy FORFUTURE that this poll hasn't been created by the developers of the game, so it wasn't official unfortunately. But let's hope that they could see that Daisy is highly popular and wanted!
☀ Daisy's amiibo was released on the 4th of November 2016, though it's unknown if the We Are Daisy group played any part in it.

☀...that Although the connection is unknown, the Princess ORANGE sponsor is most likely paid for by Daisy herself to advertise the brand and/or soda, as sponsors are typically paid for the person in charge of them?
Latest activity

Languages
In addition to the We-Are-Daisy wikia, you can find We Are Daisy affiliates here:
Ad blocker interference detected!
Wikia is a free-to-use site that makes money from advertising. We have a modified experience for viewers using ad blockers

Wikia is not accessible if you've made further modifications. Remove the custom ad blocker rule(s) and the page will load as expected.