Hey everyone! Today something came in my mind: shouldn't we make a Sarasaland Gossip Magazine cover every month like Jourdon did?
It could be cool we can make a standard logo and everyone can make one. I've made a September cover because I wanted to show up an example and because I was bored... Ok I made it just because I was bored so don't complain if it looks lazy.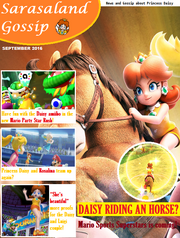 The gossip can contain the main news we had on the preivous days so it could be useful too. What do you think?
Ad blocker interference detected!
Wikia is a free-to-use site that makes money from advertising. We have a modified experience for viewers using ad blockers

Wikia is not accessible if you've made further modifications. Remove the custom ad blocker rule(s) and the page will load as expected.