Daisy did indeed appear in at least one volume of Super Mario-Kun. The MarioWiki has a scan showing Daisy with Luigi, which is from Volume 26. I don't know if she appeared in any other volumes but she at least had a cameo in one. It's the classic design of Daisy too. The MarioWiki's page for Daisy also mentions that Daisy had another appearance somewhere but I haven't seen any other pictures.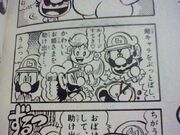 Ad blocker interference detected!
Wikia is a free-to-use site that makes money from advertising. We have a modified experience for viewers using ad blockers

Wikia is not accessible if you've made further modifications. Remove the custom ad blocker rule(s) and the page will load as expected.