So right now, our wikia is doing pretty well for itself. We got over 5,000 views last month! But there's quite a few things that I've been wanting to do to improve this wikia and make it a great source of information for fans and visitors alike! 
The amiibo page

I want to revamp the amiibo page to focus on Daisy's amiibo more than it does now. Right now, I feel that it's very bloated. We don't really need to go through every single detail of other amiibo series, as there are better sites out there to do it, and we are a Daisy website first and foremost.
For the front page banner, I feel that it's important to keep it clean and consistent with the rest of the site. A low quality JPEG with a bunch of Daisy's mixed in honestly doesn't look attractive and might put off visitors. The Featured Fanart section can let the artist's talents shine in a better way. I really love how the photo on the left does this. Can we keep it? 
The galleries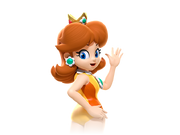 I'm planning to make every page have it's own gallery to prevent clutter, and to leave space for more information. The idea received praise and it would be appreciated if we can all help make every single page have one each!
Ad blocker interference detected!
Wikia is a free-to-use site that makes money from advertising. We have a modified experience for viewers using ad blockers

Wikia is not accessible if you've made further modifications. Remove the custom ad blocker rule(s) and the page will load as expected.