Hey guys Daisy has a good amount of haters be but these three completely stomps the haters image
The First one was really good it shows Daisy growing with a Mega Mushroom and the meme says Haters Can't phase you they just make you the BIGGER Person and literally Daisy's become bigger in the image!!!
The Second one is EVEN BETTER it has an acronym for the word HATERS check it out!
H- Having
A- Anger
T- Towards
E- Everyone's
S - Sucess
And you're going to LOVE the last one it was made by Rosetta a Rosalina fan shows daisy and it says "Respect your haters cause they are the only one who knows that you're better than them." Wow! So true!!!!!
Here are the Memes tell me which one was your favorite!!!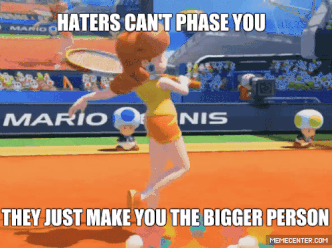 Ad blocker interference detected!
Wikia is a free-to-use site that makes money from advertising. We have a modified experience for viewers using ad blockers

Wikia is not accessible if you've made further modifications. Remove the custom ad blocker rule(s) and the page will load as expected.