Maybe you still remember Shesez. He has this Youtube show called Boundary Break. Last time he gave us a good look at Daisy Circuit and from that moment I've been subscribed to him. In this week's episode he has a poll for the next game. One of them is Super Mario RPG (SNES) and the other one is Mario Kart Arcade GP2. Maybe we should request him if he does the Mario Kart episode to take a look at Daisy Cruiser on Mario Beach. 
Unfortunately, at the moment Super Mario RPG has about 60% of the votes, but we could still request it.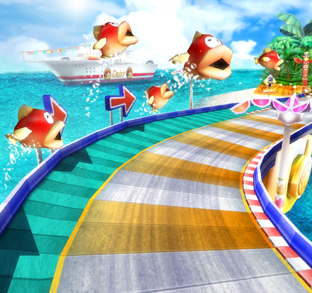 You can vote by clicking on the on-screen annotation at the end of this video: https://www.youtube.com/watch?v=HWXuD_GpDS4
Ad blocker interference detected!
Wikia is a free-to-use site that makes money from advertising. We have a modified experience for viewers using ad blockers

Wikia is not accessible if you've made further modifications. Remove the custom ad blocker rule(s) and the page will load as expected.