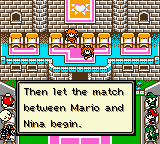 While Daisy is not playable in Mario Tennis, she appears as a supporting character. Daisy appears in the game's Exhibition Mode and is frequently seen right beside Peach, such as in the Throne Room and in the Castle Court.
This is Daisy's only appearance on the Game Boy Color.
See the Mario Tennis: Gallery.