Mario Kart DS



Official artwork

Character type
Weight class
Medium
Team number
Mega strike
Special ability
Statistics
Depends on the chosen vehicle
Official bio
Baller name
Mario Kart DS is the fifth Mario Kart game (sixth if counting the Arcade games) as well as the second handheld game in the Mario Kart series. As the name suggests, this Mario Kart game was available on the Nintendo DS, and was in released in 2005. In 2015, the game was available for purchase on the Wii U's eShop as part of the Virtual Console.
Daisy returns as a playable character in this game, but unlike in Mario Kart: Double Dash!!, she must be unlocked. Daisy is unlocked by completing all the 50cc Retro Cups with at least a one star ranking on each cup. Daisy is a Middleweight character, and her stats rival Mario's. Her stats best reflect an All Around type, varying depending on the kart she is in. Of the middleweight characters, Daisy is the lightest of the four. While Peach's karts have the best Drift stats, Daisy's karts also have strong Drift stats. This game has removed the special item feature present in the previous entry in the series, Mario Kart: Double Dash!!.
No courses present in this game are owned by nor are related to Daisy. However, Daisy is used as the staff ghost character for two courses, Tick-Tock Clock and GBA Sky Garden.
Sponsors
Edit

Sponsors are advertisements in which the owner of the sponsor pays a large sum to get their advertisement shown. In Mario Kart, sponsors often appear on the sides of tracks, where sponsors first started to appear in Mario Kart 64. The first sponsor that references Princess Daisy appears in Mario Kart DS, self entitled "Princess Daisy". This sponsor can be seen in the Delfino Square course.
Each playable character has three personal karts. At first, only two of their personal karts are available. Daisy's two personal karts (which are available once she is unlocked) are the Power Flower and Standard DS. The Light Dancer is unlocked by winning gold trophies in all 100cc Nitro Grand Prix cups.
After the gold trophy is won in either 150cc Special Cup or 150cc Lightning Cup, each character will unlock four karts that belong to other characters. After winning gold trophies in all eight 150cc cups and all cups in Mirror Mode, each character can use any of the 36 karts available in the game.
Standard DS
-Stats:
Speed: 6.5/10
Acceleration: 6.5/10
Weight: 6/10
Handling: 4/10
Drift: 9/10
Items: 7/10
Power Flower
-Stats:
Speed: 6/10
Acceleration: 6/10
Weight: 6/10
Handling: 3/10
Drift: 8/10
Items: 10/10
Light Dancer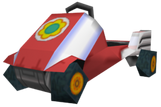 -Stats:
Speed: 7/10
Acceleration: 7/10
Weight: 5/10
Handling: 5/10
Drift: 9/10
Items: 3/10
See the Mario Kart DS: Gallery.
☀Mario Kart DS is also the first Mario Kart game in which Daisy and Peach are not in the same weight class. This would not happen again until Daisy was added to Mario Kart Arcade GP DX's roster as a downloadable character.
☀Daisy's Light Dancer kart is a palette-swap of Peach's Light Tripper. The Light Dancer is red while the Light Tripper is yellow. Despite this, the two karts have different stats, sharing only the same "Item" stats.
Ad blocker interference detected!
Wikia is a free-to-use site that makes money from advertising. We have a modified experience for viewers using ad blockers

Wikia is not accessible if you've made further modifications. Remove the custom ad blocker rule(s) and the page will load as expected.